We're Nationally Recognized for Our Approach to Senior Living Memory Care
The SHINE® Memory Care program at Caruth Haven Court has been awarded with a Certificate of Recognition by the Alzheimer's Association, which is one of the United States' leading health organizations when it comes to with Alzheimer's research and care.
One of the few programs with national recognition, SHINE® is a one-of-a-kind, individualized program for memory care that utilizes science to enhance quality of life, comprehension skills, and engagement capabilities for seniors suffering from Alzheimer's and dementia, along with other memory conditions. In our communities, you or your loved one will be cared for by trained team members who will care for you compassionately and holistically.
At Caruth Haven Court, we understand that people with dementia have their own needs. Thus, we prioritize individualized care. Our nurses, certified nurse assistants, and other trained staff organize learning journeys that embrace aspects of their life that bring them comfort and familiarity. For example, we created a (small) library for a resident that was a librarian for many years. This way, she could still be around the books that had brought her joy for so many years. You can rest assured knowing that your loved one will receive the best care.
What Is the SHINE® Senior Living Memory Care Program?
Seniors with dementia or Alzheimer's disease need specialized care personalized to their unique situation. In memory care communities, residents receive supervised care, assistance with daily living, and medical monitoring. And in many cases, staff members provide purpose-driven activities to help residents enjoy each day.
At Caruth Haven Court, our memory care program provides the care your loved one needs. Our SHINE® Memory Care program involves six unique points of emphasis to create a comprehensive plan that makes sure that each resident's care program is personalized to their own needs and abilities—one that will support and enrich their lives greatly.
Our exclusive SHINE® Memory Care program emphasizes:
Communication – An effective communication chain connects families, community members, and care providers
Staff training – Every SHINE® employee undergoes specialized holistic training and will receive official certification so they may provide the best care
My Story – A thoughtfully made My Story book is utilized each day as a part of the plan of care, and it engages community members through celebrating their lives and identities
Dining – Our dining programs make use of science to enhance appetite, awareness, participation, and interaction
Life improvement – Goal-oriented enrichment via sensory experiences, relaxed and quiet moments, and one-on-one and group activities
Neighborhood design – Designed with convenience, safety, health, happiness, and security in mind
The SHINE® Senior Living Memory Care Program
Self-Esteem, Confidence, and Independence

Recognize every small success
Encourage proactive participation in daily activities
Emphasizing strengths over limitations
Encourage physical fitness, cognitive activity, and maintaining religious and social contacts
Discover Dining Delights
Provide nutritious gourmet food to improve health
Encourage proactive participation at meals, with assistance if required
Eat meals with focus and intent, within a relaxing setting
Provide "Food on the Run" for members who cannot focus on eating
Discover Fun and Engaging Activities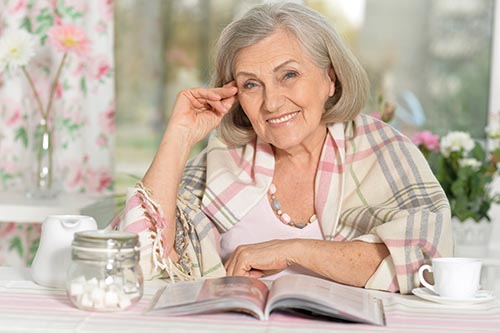 Organize goal-oriented activities one-to-one or in a group
Customize activities based on members' capabilities and the time of day
Organize activities that are age-appropriate and in which everyone wins
Organize activities that are compatible with members' attention span
Friendships and Belonging
Encourage proactive participation and provide support in daily activities to maintain autonomy and independence
Encourage self-care habits so members can be their best selves
Organize productive activities or work, to give a sense of self-worth and success
Encourage playtime to foster camaraderie
Reach Out to Caruth Haven Court for Senior Living Today
Learn about why seniors and their families believe in Caruth Haven Court's memory care program. SHINE® Memory Care is perfect for families who want to give their loved one a community in which they will get individualized care. A high-quality lifestyle is important to us at Caruth Haven Court.
To learn more or to arrange for a tour, contact us today at 214.308.0083.